2022 Kitchen Trends That Will Be Everywhere
The kitchen is the hardworking hub of the home, and we are always looking for ways to increase its effectiveness while capitalizing on easy-to-achieve style.
We have put together the most significant 2022 kitchen remodeling trends that will make your home more functional.
Continuing the emphasis on organic style and its simple luxury, functionality will become the primary goal of remodeling projects. 2021 brought a few prominent trends like nature-inspired accents, focus on storage and high-tech appliances, lighting, and fixtures. 2022 is going to capitalize on that. The six trends we have listed below will help your kitchen work the way you want it to work, in addition to its lasting stylish appearance.
Flexible Kitchen Lighting
Modern kitchens continue to transform into multifunctional spaces where lighting plays a crucial part. People want to control and adjust the light depending on the task at hand, which becomes a significant trend. We are talking not only about the simple ability to dim light levels. The modern lighting systems can be controlled by the app adjusting light intensity and color temperature. There is a prediction that app and voice-controlled lighting will become as common in 2022 as motion-sensor lighting and traditional dimmers.
A space used for varied tasks requires multiple light sources, which becomes a significant new feature. Hardwired or plugged-in adjustable sconces are especially hot for kitchens. They add both illumination and style and can be installed how and where they're needed. White light fixtures will become popular in 2022, and we'll continue to see trends toward black and gold finishes for all fixtures.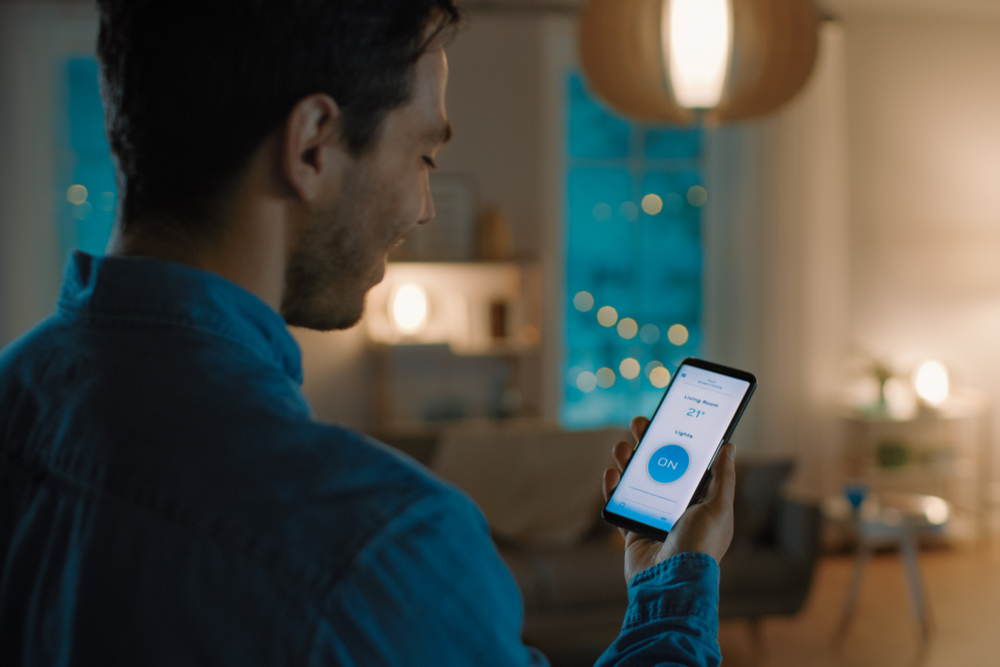 Walk-In Kitchen Pantries
COVID-19 pandemic caused significant changes in cooking and shopping habits. In 2021 kitchens were filled with small appliances, new cookbooks, and cans of food. The most desirable kitchen features in 2021 that homeowners searched for were walk-in pantries and double-basin sinks.
2022 is going to see the rise of the so-called "working pantries" that will add functionality to kitchen storage and include areas to store and use small appliances.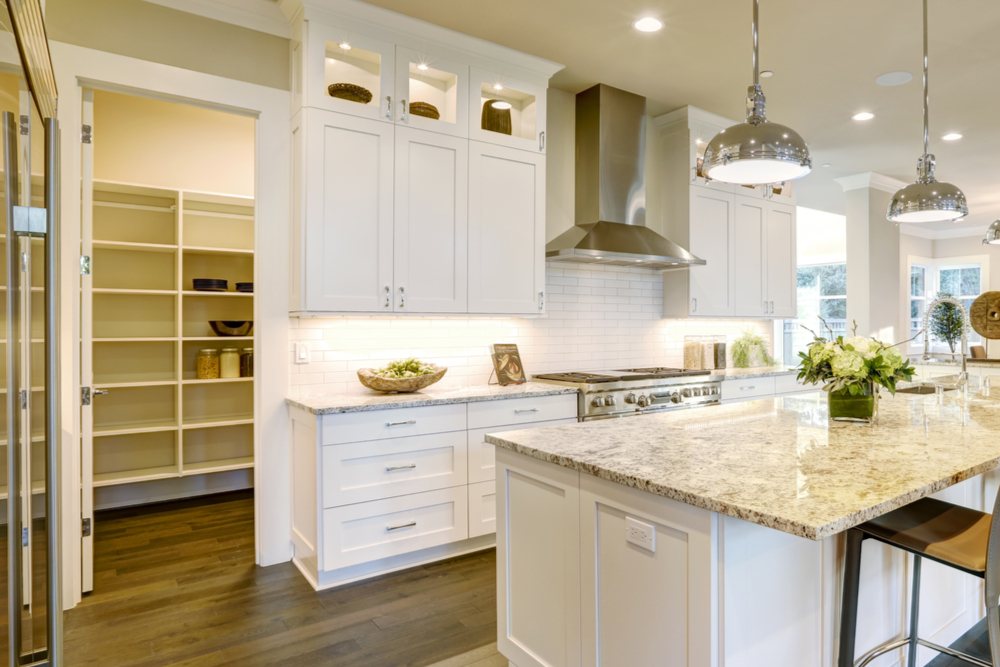 Kitchen Sink Workstations
We are expecting to see significant upgrades to the sinks in 2022. Like everything in our modern kitchens, sinks must serve multiple functions.
Side-by-side double sinks were the most-wanted kitchen feature in 2021 because you can do multiple things simultaneously, like preparing food and washing the dishes. Side-by-side double sinks allow the homeowner to select from various basin sizes and depths, offer a variety of configurations, and provide options for faucet location and its mounting style.
Workstation sinks will see increased popularity in 2022. They feature multiple faucets for added productivity and a built-in ledge that stores accessories like cutting boards, colanders, ice holders, and dish racks. In new construction and more extensive renovations, galley-style sinks wider than a standard 36″ sink base cabinet will be trendy.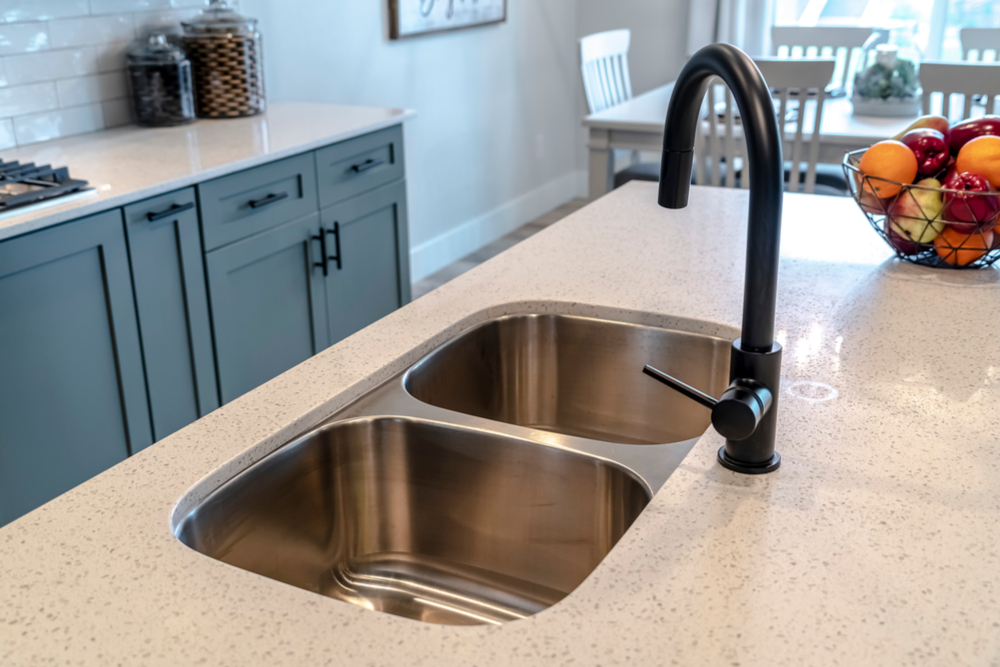 Rounded Kitchen Accents
Rounded kitchen accents are showing up as a part of the organic style that continues to influence kitchen design in 2022. This nature-inspired aesthetic promotes comfort, whimsy, and natural elements, so curves and organic shapes will be integrated more into kitchen spaces.
If you are going for a large-scale renovation, we suggest elements that structurally integrate swells and curves, like arched doorways, windows, and ceiling treatments. Look for accents with rounded geometric and abstract patterns like seating with curved backs, circular trays, scalloped backsplashes, and soft furnishings for a smaller approach. You can also try pairing with each other curved and wavy decor elements. For example, try round tables with circular rugs or round cutting boards with curved earthenware serving pieces.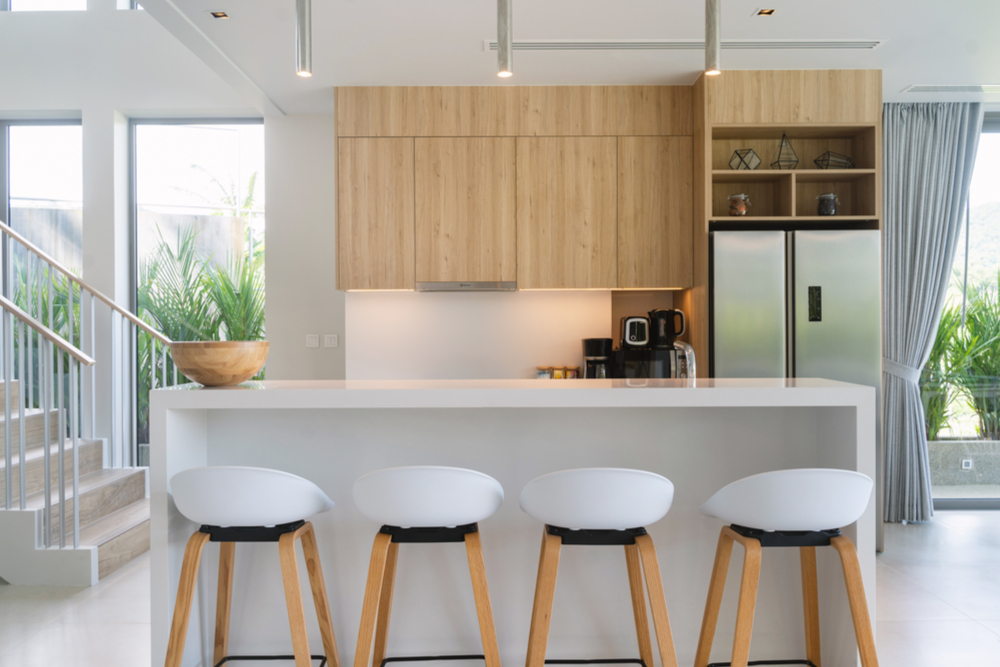 Modern Wood Finishes in Kitchens
2022 will see more greens and blues, but white and wood tones will also be popular as the foundation for organic style. In addition to the painted wood, which is still the most-popular cabinet choice, wood grain is gaining ground in the kitchen, especially in light and medium tones.
The new year will see the renewed love for wood kitchens, especially stunning, grained walnut or white oak. Warm woods will help balance the coldness often found in tile and stone countertops.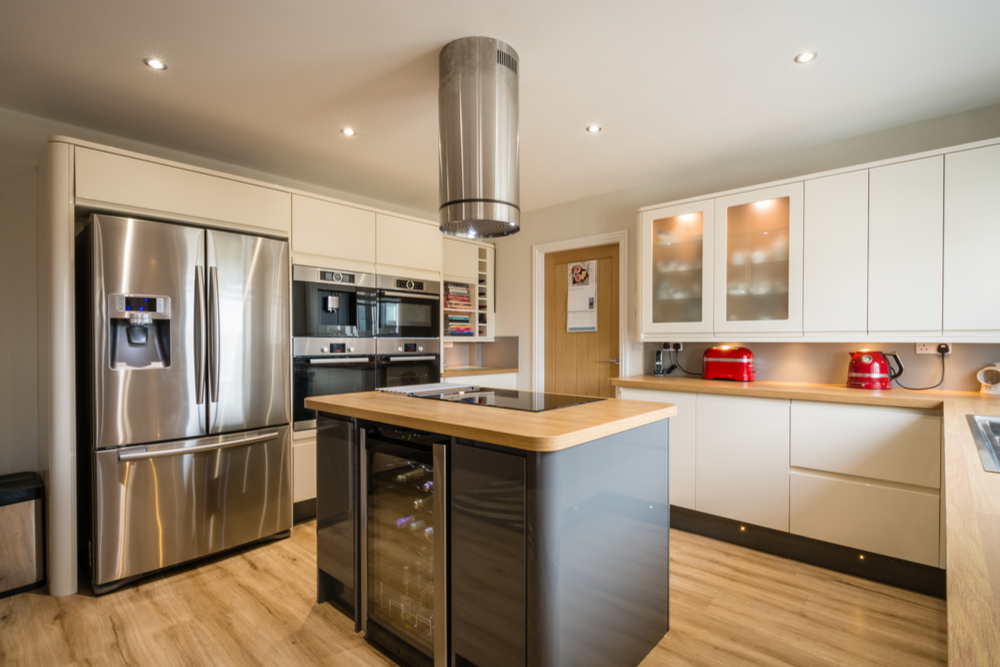 Smart Kitchen Appliances
Kitchens are being filled with more and more tech-savvy kitchen appliances. Today's connected homes push many manufacturers to update and add new features to their line of appliances. Homeowners are now willing to splurge, and the delays in receiving appliances encourage homeowners to wait to get everything they want in the perfect device. High tech appliances allow homeowners to be alerted when timers are done no matter where they are, save time by preheating before getting home and add the possibility of having appliances serviced without a technician. All of these are valid reasons homeowners are getting excited about adding more tech functionality to their kitchens in 2022. If you're looking to increase the functionality of your home with a kitchen remodel, we can help make it happen! Give us a call at (760) 795-9697, or click here for a free estimate!