5 Most Popular Home Improvement Projects
After all the extra time we've spent in our homes the past year, most of us have a long list of projects we need to tackle. Whether you're not sure where to start or need some inspiration on how to upgrade your home, we're here to help! We've put together a list of the 5 most popular home improvement projects. These projects will help increase your home's square footage, functionality, and overall value. We believe everyone should be able to create the home of their dreams!
1. Remodel Your Kitchen
As you may have heard before, the kitchen is the heart of the home. It's where family and friends get together to catch up and enjoy delicious meals. With all the attention that this room gets, it should be an enjoyable space! If your kitchen's starting to feel a little outdated, it not only becomes an eyesore but can limit the types of meals you can make or the number of people that can be in the room. Luckily, a kitchen renovation comes with many benefits!
Adding more cabinets, upgrading appliances, and opening up the space are all great ways to improve your kitchen's functionality. New appliances will not only reduce your energy costs but are much more eco-friendly than they were in the past! If you need to update your kitchen's visual design, re-painting the walls and updating your cabinets is a great way to improve the look and feel of the room instantly. Adding more cabinet space will also help you stay organized and provide more storage for your utensils or kitchenware that's sitting out on your counters.
2. Update Your Bathroom
Bathrooms are one of the first places that start to show wear and tear over time. Additionally, if you ever decide to sell your home, an outdated bathroom can deter potential buyers, whereas even minor bathroom remodels can allow you to greatly increase your asking price. It's easy to ignore now, but leaky faucets or inefficient appliances can be wasting your money as well.
Bathrooms shouldn't only serve as a place to get ready for the day. They can be upgraded to give you a spa-like experience in your home! Adding a separate bathtub, heated towels, or jacuzzi can help turn the room into a peaceful oasis. You can update the storage to reduce clutter and make it easier to organize and find your toiletries and cleaners. Even simply improving its cosmetic appearance by replacing the tile or adding a fresh coat of paint will help make it a more relaxing space.
3. Create an Outdoor Kitchen
If you're a fan of backyard BBQs, outdoor yard games, or late-night get-togethers with friends, an outdoor kitchen is a must! If you truly want to transform your outdoor area, you'll need more than just a small patio table and grill. Outdoor kitchens allow you to spend time outside with friends instead of running in and out of the house to get food, beverages, plates, or cooking utensils.
You can add a pizza oven, smoker, flat-top grill, or anything else that helps bring out your inner chef! As we all know, no kitchen is complete without a kitchen island! Adding one to your backyard will provide an area people can sit, chat, and enjoy their meals. Plus, it's nice to know that with an outdoor kitchen, your house won't fill up with smoke or strong odors when cooking, as they'll simply disperse in the outdoor air.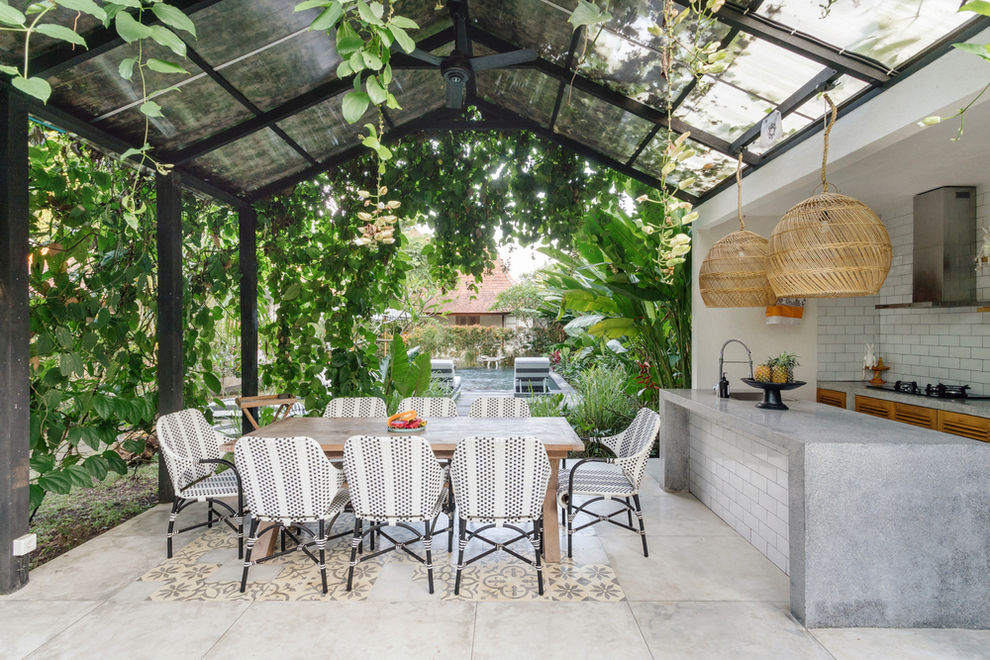 4. Build a Patio
Do you love spending time outdoors, relaxing in the sun? If so, a patio would make a great addition to your home! There's no better way to spend the weekend than relaxing in your backyard, soaking up the sunshine. If you have kids or pets at home, the living room can start to feel a little cramped. Adding a patio will extend your living room and provide some extra space, making your home feel bigger. If you're entertaining guests, a patio is a necessity! Parties and get-togethers can become a little congested when everyone is stuck inside. A patio will allow people to enjoy the backyard and sit down and relax without bumping into one another.
5. Add a New Room
Over time we tend to find that our homes need some extra space, whether our kids are growing up or we've picked up a new hobby that requires storage. A room addition allows you to increase the square footage of your home without having to pack up and move to a new neighborhood. With a room addition, you can increase the size of your kitchen, add a walk-in closet or guest bedroom, and much more. Some common room additions include:
⦁ Master suite extension
⦁ Home office
⦁ Sunroom
⦁ Extra bathroom
⦁ Mudroom
Whether you've always wanted a personal gym, extra space for kitchen appliances, or mini-theater, room additions allow you to create the home of your dreams! Our team will make the addition match the rest of the house, so it doesn't look like an afterthought. It will seamlessly blend in and look as if it was part of the original construction.
Give Julz Corp a Call
We hope our list of the 5 most popular home improvement projects has helped spark some ideas. You're going to spend a lot of time in your home, so it should be a space that you love. No matter how large or small your project is, Julz Corp is always happy to help! Our team can work with your budget to make sure your home transformation doesn't break the bank. We'll maximize your remodeling dollars and make sure to get every detail right! If you're ready to upgrade your home, give us a call at (760) 795-9697 or click here for a free estimate.